Accommodations for Commencement
General Information for University Ceremony
All faculty, staff, guests, and graduating seniors who have personal accommodation needs, should have completed the request for accommodations form by April 21 to request accommodations for the ceremony on Friday May 5, 2023.
If you or a guest require accommodations for the Commencement Ceremony and did not complete the request form, please enter the stadium through Gate 8 and visit the ADA Accommodations booth across from the elevators to the Club Level. Limited seating accommodations will be provided based on availability.
If you completed the form to request accommodations for the ceremony, emails will be sent by Wednesday May 3, 2023 with new seating assignments.
Captioning and American Sign Language Interpreters
The university ceremony will be captioned and sign language interpreters will interpret the event.
College / Department ceremonies are not captioned as they are not live streamed. If you are planning to attend a college or departmental ceremony and would like a sign language interpreter, please contact your college / department directly so they can make this request. We ask that you make this request at least 1 week before the college / department ceremony.
Accessible Parking
ECU has designated parking spaces for individuals with DMV issued ADA placards in the Gold Lot between Minges Coliseum and Dowdy-Ficklen Stadium. If you have a DMV issued placard, please have it visible when entering the parking lots so that you can be directed to ADA parking.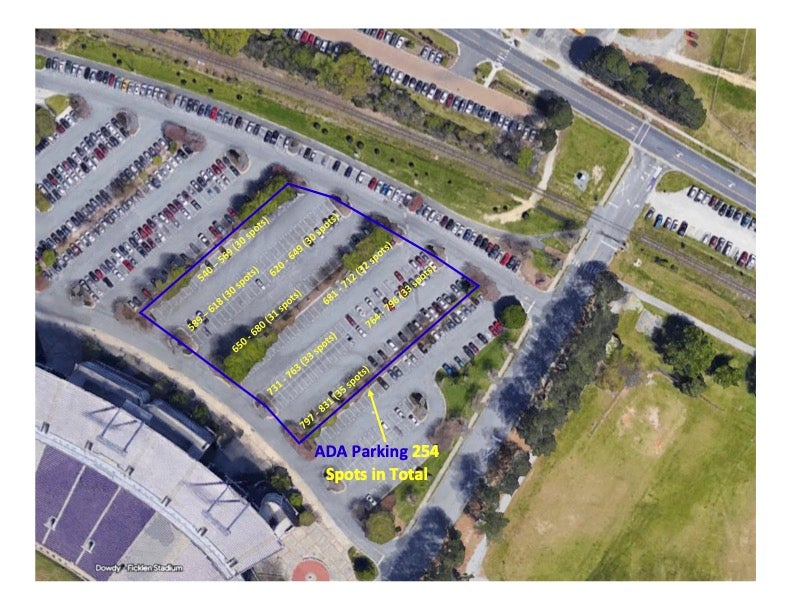 If the designated Gold Lot fills up, there will be overflow ADA parking available in a parking lot just across 14th street. Shuttle assistance will be provided.
If you have questions specific to accommodations for the Commencement ceremony, please contact DSS at DSSdept@ecu.edu.
---