Spring 2023 Commencement Speaker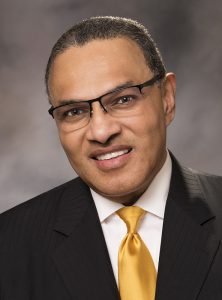 Dr. Freeman A. Hrabowski III, president emeritus of the University of Maryland, Baltimore County (UMBC), has been named the keynote speaker for the spring commencement ceremony.
Hrabowski, who served as president of UMBC from 1992-2022, focused his research and publications on science and math education, with emphasis on minority participation and performance. A leader in the Civil Rights Movement as a youth, Hrabowski was prominently featured in Spike Lee's 1997 documentary, "Four Little Girls," on the racially motivated bombing in 1963 of Birmingham's Sixteenth Street Baptist Church.
Born in 1950 in Birmingham, Alabama, Hrabowski graduated from Hampton Institute with highest honors in mathematics. He received his master's degree in mathematics and a doctorate  in higher education administration/statistics from the University of Illinois at Urbana-Champaign. 
Hrabowski chaired the National Academies committee that produced the 2011 report, "Expanding Underrepresented Minority Participation: America's Science and Technology Talent at the Crossroads." He was named in 2012 by President Obama to chair the President's Advisory Commission on Educational Excellence for African Americans. His 2013 TED talk highlights the "Four Pillars of College Success in Science." In 2022, Hrabowski was elected to the National Academy of Engineering, and he was also named the inaugural ACE Centennial Fellow, to be served upon his retirement from UMBC.
In addition, the Howard Hughes Medical Institute launched the Freeman Hrabowski Scholars Program ($1.5 billion) to help build a scientific workforce that more fully reflects our increasingly diverse country. In April, he received the National Academy of Sciences' highest award, the Public Welfare Medal, for his outstanding leadership in transforming U.S. science education and increasing cultural diversity within the science workforce. Among his other recognitions and honors are the 2012 Heinz Award for his contributions to improving the human condition and the American Council on Education's Lifetime Achievement Award (2018).