Ceremony
A Brief History of East Carolina Commencements
By Arthur Carlson, University Archivist
East Carolina Teachers Training School organized its first commencement in May 1910 to recognize the first students to complete the one-year rural teacher education program.  The following spring, thirteen students completed the regular two-year program, qualifying them to teach in any North Carolina school.  Among the graduates was Pattie Simmons Dowell, the first student to enroll at East Carolina in the fall of 1909.  She was also the first East Carolina student to earn a PhD and the first recipient of the Outstanding Alumni Award.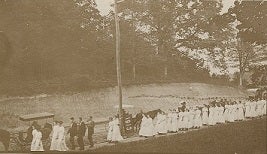 By 1913, commencement activities had evolved into a four day affair that included music recitals, theatrical performances, religious sermons, and an alumni banquet before culminating with graduation exercises.  Wearing formal white dresses, students began the graduation processional in the Girls Dormitory (later Wilson Hall) before parading along Fifth Street to the administrative building, Old Austin.  Old Austin and Wilson Hall were razed in 1968, but the distinctive cupola that capped Old Austin lives on via a larger than scale replica adorning the Campus Mall.
In 1932, the senior class helped dedicate the original fountain by staging a Class Day  pageant titled "The Fountain of All the Muses." The performance concluded with the filling of the pool by graduates acting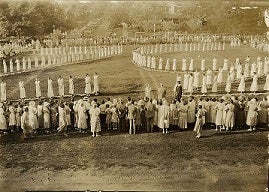 as modern-day muses.  The water represented the curriculum of East Carolina Teachers College:  Music, Art, Literature, Culture, History, Science, Mathematics, Government, and Business.  The fountain became a mainstay of commencement ceremonies for the decades that followed. For years, the student processional would begin in the Flanagan Building, diverge around the fountain, and enter College Stadium.  During World War II, East Carolina added a new tradition, as graduates and attendees joined together to sing East Carolina's Alma Mater composed by Harold MacDougle '44.  The original fountain was replaced during the Centennial celebrations and was rededicated as the Trustees Fountain.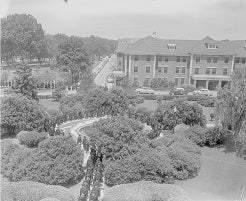 With the opening of Ficklen Stadium in 1963, commencement ceremonies moved south, where they take place to this day in the expanded Dowdy-Ficklen Stadium. Many of the traditions established in 1910 are still a part of East Carolina's graduation ceremony, including the use of marshals, a speech by a member of the graduating class, and the featuring of a prominent invited speaker.  In 1979, a new tradition was added with the inclusion of the Trustees Mace. Created from gold, silver, and purple fluorite crystal, the mace is carried by a distinguished faculty member who leads the graduation processional.
In 2007, East Carolina commencements received an injection of color as those earning bachelor degrees wore purple robes for the first time.  Masters and Doctoral graduates continued donning black robes with discipline-specific colored hoods.  In 2011, commencement attendees witnessed the beginning of a new tradition, as East Carolina's Golden Alumni joined the graduation processional adorned in gold robes to celebrate the fifty-year anniversary of their first journey across the stage as the Pirates following them.